Christmas in Tahiti
Sunset in Tahiti at the Sofitel Resort
Tempted to escape for a tropical island Christmas in Tahiti? Wondering what the summer weather will be like? Last year we made a snap decision to celebrate the festive season in Tahiti.

Only 2 weeks before we planned to go I stayed up half the night searching for special deals. I found good prices and we had a fantastic vacation. After having Christmas in Tahiti we think it's one of the best times to go. You can relax in the sun, with a cocktail or a beer, while someone else takes care of the nostalgic rituals that make Christmas the main event of your year.

The Tahiti Christmas weather had a beautiful warmth. We loved wearing our pretty, light clothing. During the middle of the day it was hot. At some time each day we experienced a quick shower, with rain so fine it felt like a silken mist. We looked for the colorful romantic rainbow that accompanied each passing shower. The air smelled amazing. A tropical island Christmas also means balmy summer evenings.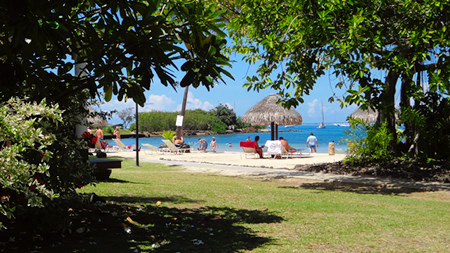 Tahiti Airport Cheer
Travelers arriving at the Papeete airport are greeted with a very special island welcome that always warms my heart. Even if it's midnight there's a group of islanders strumming ukuleles and a vahine hands a fragrant tiare flower to each person.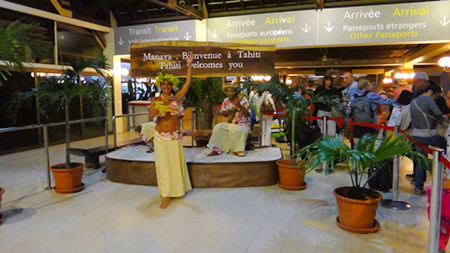 Welcome to Tahiti
Just before Christmas the atmosphere was alive with holiday anticipation. Although summer is the low season in Tahiti everything bustles for a few weeks over Christmas. Many visitors arrive from Europe and the US, to escape the cold by having Christmas in Tahiti.
A row of gaily adorned Christmas trees was setting a joyful mood. I had wondered about bringing decorations and was pleased I'd decided to use the strictly limited weight allowed on inter-island flights for extra sun dresses. 
| | |
| --- | --- |
| LAN's Christmas tree | Hawaiian Airlines Christmas tree |
Tahiti Sofitel Stay
When I arrived at the exotic Sofitel, I had to metaphorically pinch myself. It's hard to believe that after only a few flying hours I can wake up to a sublime breakfast in lush tropical gardens. 

Breakfast at the Sofitel
Dining next to the pool
The generous buffet breakfast offered at hotels in Tahiti has all kinds of egg dishes, bacon, mushrooms, tomato, hash browns, yoghurt, cheeses, fresh crispy French breads and pastries, and best of all, luscious island fruits. At the Sofitel we lingered in the beautiful open sided restaurant and eyed the awesome views across the lagoon to lovely Moorea.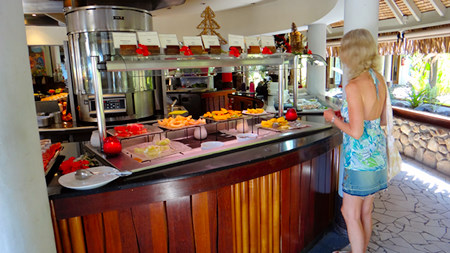 Breakfast buffet includes delicious tropical fruit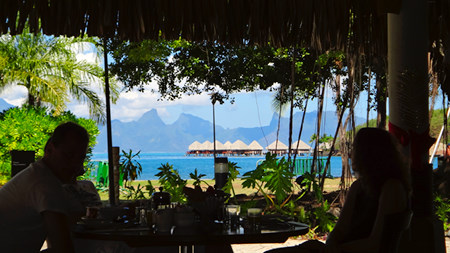 Looking out to Moorea
We stayed at the Sofitel for this part of our trip as it's close to the airport and wharf. Plus I had booked a great deal online that included breakfasts. We did discover that we had to pay extra for doing water activities. But that's typical of Tahiti resorts on the main island. 

Supermarket Spirit

From the Sofitel we could easily walk to the nearby Carrefor supermarket. We didn't need a hire car and were anticipating a seek and eat mission at the 'super-gourmet-market', as we affectionately refer to Carrefor! We also wanted to stock up on bottles of monoi and tamanu oil at discount prices.

When we walked into the Carrefor it was resonating with live caroling. Christmas in Tahiti is amazing.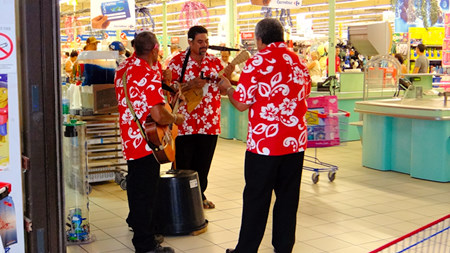 Live caroling Tahitian style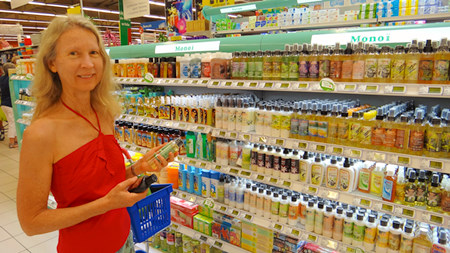 Choosing from the huge selection of Monoi oil for Christmas gifts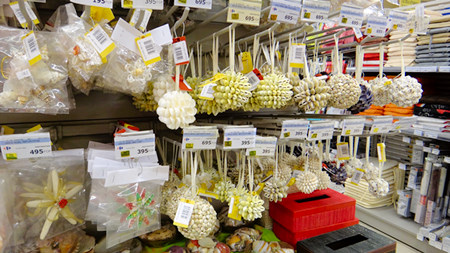 Tahitian style Christmas decorations at the Carrefour
A quick look round told us it was time for the feasting to begin!

Mum choosing from the amazing selection of cakes for our Christmas feast
Christmas specialties in the deli section
Christmas Concert

At the Sofitel a card on our desk informed us that we wouldn't be getting much sleep that night. A special event would be held in the grounds and we were invited to join in the festivities. Striped lighting on the palm trunks set the scene. We joined a large numbers of locals who had tickets for the entertainment.  
We met friendly islanders who were on holiday from tiny, remote, outer atolls. They had come to celebrate a very happy Christmas in Tahiti. It's their opportunity to catch up with family and socialize on the most populated island, during their yearly break.
Things really hotted up when an awesome group of talented young men came out. They made a spectacular cultural contribution to the Christmas spirit by performing a series of dramatic fire dancing routines.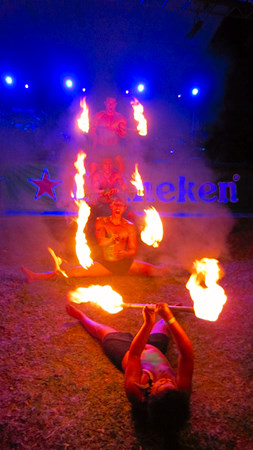 The leader of the group is on a mission to inspire and empower young Polynesian men. He wants them to take pride in continuing their culture so he brings them together and trains them in this unique dance form which also provides them with employment.
We slipped back-stage to meet the dancers after their act. I admired the charismatic leader's remarkable body art and wished he spoke more English. Finding out the meaning behind Tahiti tattoos creates a deep connection. It's a quick way of getting to know someone.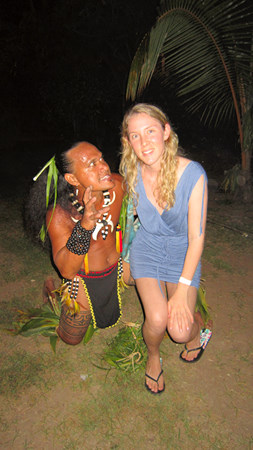 Me meeting the leader of the Katahi Nui group
The name of the talented group is Katahi Nui and they entertain at all kinds of functions. If you're wondering about the possibility of catching a performance while you're in Tahiti email: katahinui@hotmail.fr 

Christmas Village

On the Sunday before Christmas in Tahiti the shops and museums were closed. We strolled along the waterfront to "Christmas Village", a vibrant Christmas market. Each year it sets up between the 14th and 24th of December and opens from 8 am to 6pm each day. There's rides and games for children. You can find a wide selection of fantastic gifts as this is where the locals do their Christmas shopping in Tahiti.
We saw so many gorgeous local designs it was difficult to keep my wallet in my bag. We wanted to save our Christmas money for buying Tahitian cultured pearls. See why we had our hearts set on black pearl jewelry.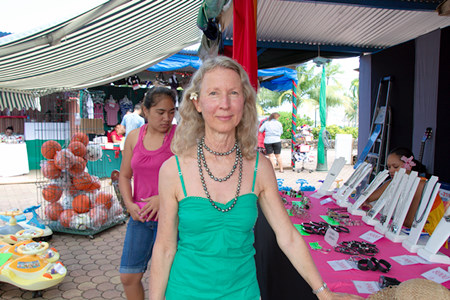 Mum trying on a beautiful black pearl necklace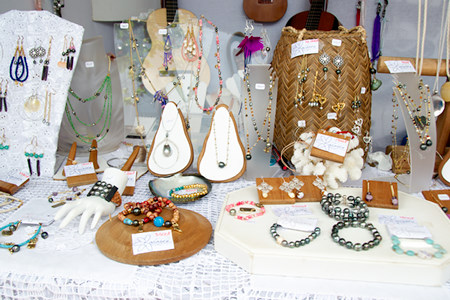 There was a large selection of beautiful handmade jewelry
I chose a pearl, etched with design, for my boyfriend. The passionate owner of this store explained that he provides employment for remote islanders by giving them large pearls (with imperfections) to decorate with tattoo motifs. He had a fantastic display. To contact him email: fred@blackmarketpearls.com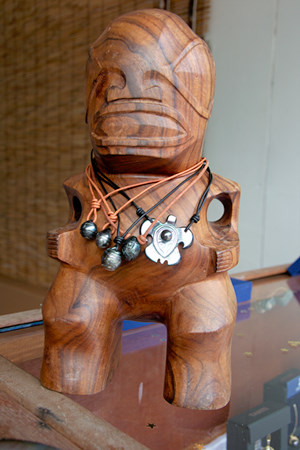 It was hard to choose from the amazing men's pearl necklaces
Tahiti Christmas Fair

This colorful event is held yearly at the Salle Aorai Tina Hau in Pirae. Over 100 artisan groups exhibit their handicrafts. The creative display includes sculptures from bone, wood or stone, woven baskets, shell and pearl jewelry, pareos, clothing and tifaifai quilts. Tel. (689)54.54.00 Email lydia.laugeon-duch@artisanat.gov.pf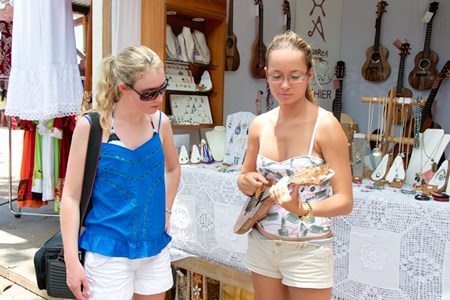 Hand made ukuleles from Moorea
A Cruisin' Christmas in Tahiti

View from our balcony on the Ocean Princess before heading off to the Tahitian islands for Christmas!
The hotels in Tahiti provide special meals and entertainment on Christmas eve and Christmas day. But there's more than one way to enjoy a Christmas in Tahiti. We wanted to celebrate Christmas day on the best island in the world. So we headed to Bora Bora on the nicest possible route. Read about our exciting Christmas cruise through 5 amazing tropical islands. We sailed into the turquoise lagoon of the best island in the world on Christmas eve, in the morning. Here's what Christmas in Bora Bora is like.

View from our balcony on the Ocean Princess before heading off to the Tahitian islands for Christmas!
Search the Site

Are you still looking for additional information? You can use the Google search box below to search the site.