Information on Bora Bora Activities
We have information on Bora Bora activities in detail through this site. Here is a quick list of Bora Bora activities that you can find out more about.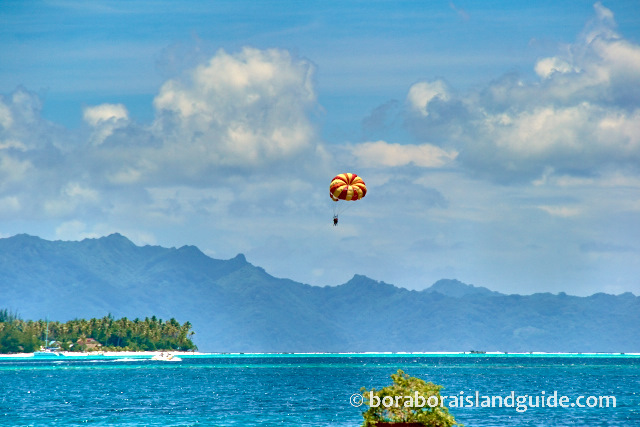 Parasailing in Bora Bora lagoon
Water Activities
There are many water activities on Bora Bora's legendary lagoon: snorkeling, scuba diving, swimming, wave runner, jetski, sunset cruises, parasailing, boat hire, catamaran sailing, kyaking, outrigger canoeing, shark & ray feeding, yacht charter, aqua safari, Bora Bora submarine, kite surfing, underwater scooter excursions, paddle boarding.
Land activities
4WD adventures to the inner savage island, circling the island road by car, bike or scooter, quad biking on a motu, guided hikes to Mount Pahia and Mount Otemanu, motu picnics, Polynesian spas, shopping for black pearls and paeros, exploring the ancient marae temples, hiking to the WWII guns, horseback riding and...relaxing on the beautiful white sand Bora Bora beaches. Visit our Bora Bora tours page to see all the land activities available.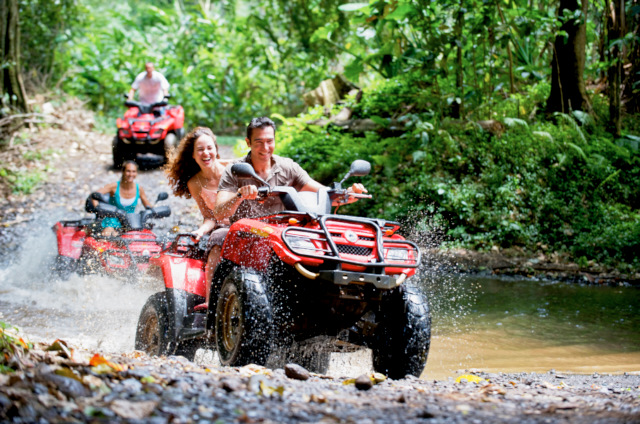 © T McKenna
Information on Bora Bora snorkeling
Bora Bora's calm, clear lagoon is perfect for snorkeling. In the lagoon you can see bright tropical fish, gray rays, spotted eagle rays and manta rays, black tipped reef sharks and sea turtles. The most popular snorkeling spot is 'the Aquarium'. There are some areas in the lagoon where coral flourishes. Many of these sites require a boat to get to, so snorkeling island tours or boat hire is essential to get to the best snorkeling in Bora Bora. If you want to snorkel straight from your Bora Bora resort's beach, you can, just choose one that has coral. Here is more information on Bora Bora snorkeling.
Information on Bora Bora Dive Sites
There are dive sites within Bora Bora's sheltered lagoon. Plus drift dives can be taken through the island's Teavanui pass (the entrance from the ocean to the lagoon). There are also about 4 outer-reef dive sites in the Pacific Ocean. Highlights of diving in Bora Bora are turtles, lemon sharks, black-tipped sharks and manta rays. On outer reef and pass dives you can see larger marine animals, including shark varieties and dolphins. If you've never dived before, the warm turquoise water and abundance of sea life make this the perfect place to learn. Beginner divers are taken to a favorite snorkeling spot, affectionately titled 'the Aquarium'.
Search the Site

Are you still looking for additional information? You can use the Google search box below to search the site.