UPDATE 2022: The Sofitel Bora Bora is currently closed. It is unknown when the resort will re-open.
Sensational Sofitel Bora Bora Activities
Some of these sensational Sofitel Bora Bora activities are unlike anything that you have done anywhere in the world! Make sure you pack an underwater camera to capture the fun.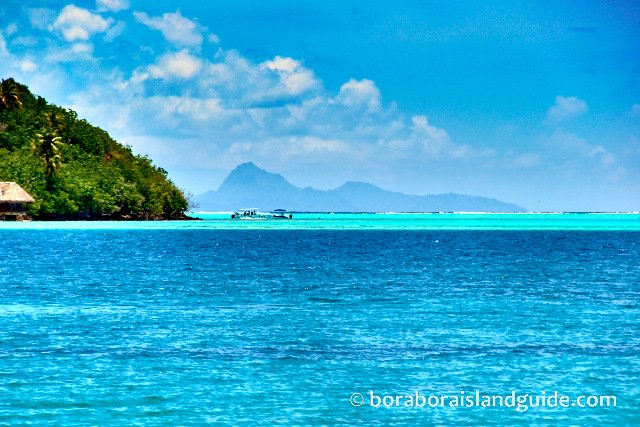 The snorkeling spot behind the Sofitel's motu
Snorkeling Paradise
Whether you select Marara Beach accommodation, or book a bungalow on the Private Island, you are entitled to enjoy all the complimentary Sofitel Bora Bora activities. Guests on the mainland Marara Sofitel can catch the boat across to the motu, for a small fee (about the same as catching a taxi to Vaitape).

What's our favorite thing to do while visiting the world's most beautiful island?
A Bora Bora lagoon excursion with a snorkeling stop at coral gardens!  But a Bora Bora boat tour can costs over a $100 per person as fuel and goods have to be transported to this remote sanctuary from afar.

So on a Sofitel Bora Bora vacation, you can row to one of the best coral gardens in Bora Bora, just off the tip of the Sofitel Motu, as a free activity. The Sofitel Private Island has canoes and kayaks for guests to paddle round to this teeming-with-tropical-fish spot. 
Want to snorkel from your over water bungalow? Find out which of the Sofitel overwater bungalows have the best coral and lagoon life around them. Select the right hut and you don't even have to get wet! Watch the lagoon life traveling underneath the glass panel. 

The Pool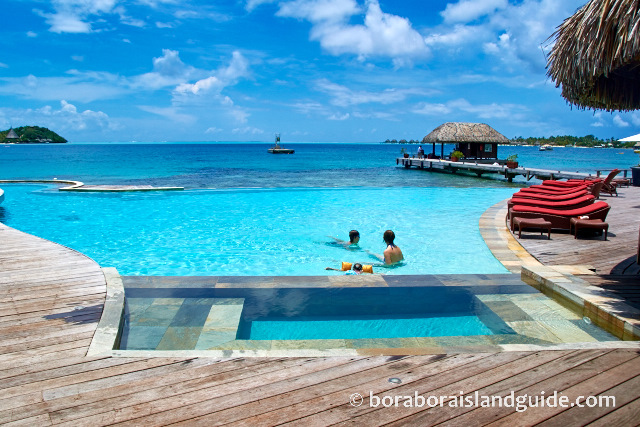 The beautiful pool at the Marara Beach side looks out to the Private Island and the lagoon. There is no pool on the Private Island side, but you do have the shallow, calm lagoon to swim in and can always catch the fast boat over to the Marara Beach to use these facilities.

Master a Polynesian Outrigger Canoe
Rowing a traditional outrigger, to the most famous coral gardens in Bora Bora, is a reality test of how in sync you can be with your partner.

Kayaking
If the idea of dual rowing is daunting, or you want to go out by yourself, there are complimentary kayaks available too. Kayaking around this gorgeous part of the lagoon, under the watchful eye of Mt Otemanu, is like dreaming.

Billiards

The Marara beach resort bar has a billiard table in the open bar area with an aspect right across the swimming pool and lagoon, all the way to the horizon.

Not to be outdone, the Sofitel Private Island pool table has such a close-up view of Mt Otemanu, that this majestic landmark could be keeping score.

If you can keep your eye on the ball, you're likely to win, even if you've never played before! A game is a great way to escape from the tropical mid-day sun or let a shower pass overhead.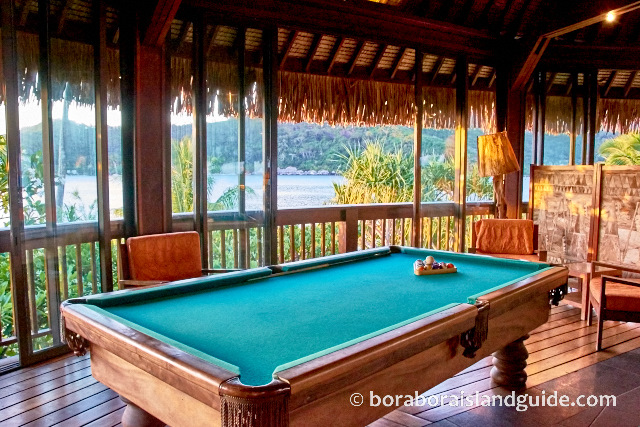 Pool table at the Private Island
Polynesian Cultural Activities

Opportunities for experiencing the Polynesian culture are also popular Sofitel Bora Bora activities.
Learn a traditional craft
Each day, Polynesian mammas demonstrate their practical skills. They'll teach you how to weave a hat or a basket. On one afternoon guests can paint a pareo wrap-around to show off at dinner. These make great souvenirs to take home. Guys look sexy relaxing in them too.

Taste a Polynesian Banquet
Eating a Polynesian banquet is one of the must do Bora Bora activities. Each week (Tuesday when we were there) a barbecue pit is fired up in the afternoon to give a taste of authentic, slow cooked  Polynesian food. You can book for the evening banquet meal which is followed by an exhilarating display of Tahitian dancing. See more Sofitel Bora Bora Dining choices here.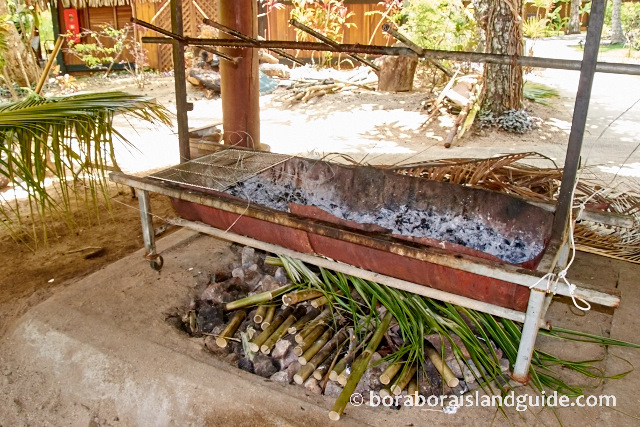 Plan Your Sofitel Bora Bora Activities

Ask for the weekly Sofitel Bora Bora Activities program when you book accommodation. Know what you want to participate in so you can avoid choosing outside excursions or restaurants at those times.

Check out the 'activities hut' on the first day.  You may find the beach boy is your best friend. On a Bora Bora vacation it's all about the world's most calm, warm, blue  lagoon. Get out on it!
There may not be as many complimentary activities as some higher priced Bora Bora resorts but the ones it has are awesome.

Search the Site

Are you still looking for additional information? You can use the Google search box below to search the site.