A Tahitian flower crown celebrates love and life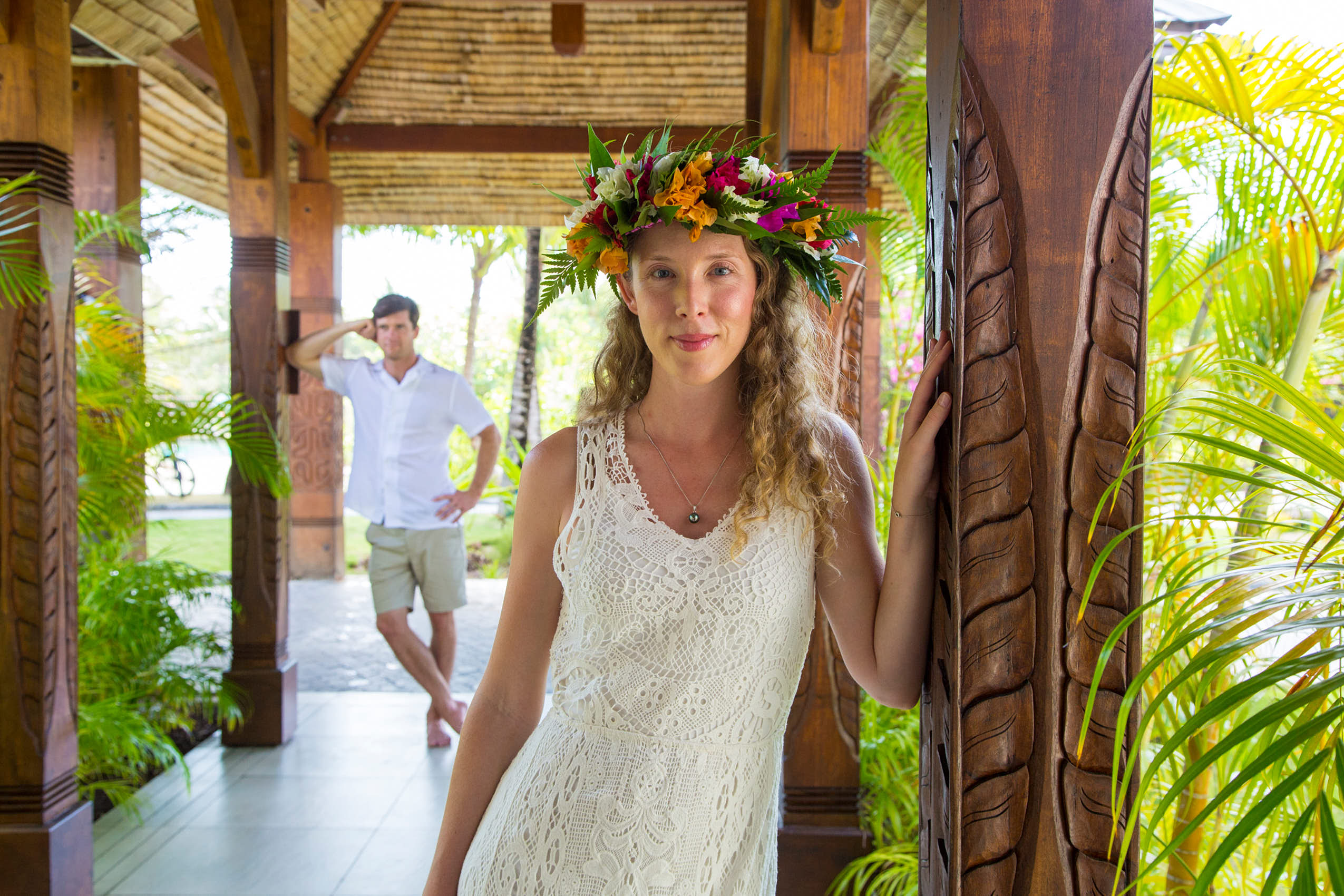 Photograph by Bora Bora photographer Stephan Debelle
The Tahitian flower crown is a popular adornment in French Polynesia. It's a beautiful, cultural tradition
that adds distinction to celebrations and festive occasions. The Polynesian word for flower crown is "hei".
Female dancers wear theatrical Tahitian flower crowns, as part of costumes, while performing their
vibrant traditional dances. Brides and grooms are adorned with elaborate "heis" when marrying in a
traditional Tahiti wedding ceremony.

But fun-loving islanders don't need a special event to wear a flower crown and celebrate the beauty of
life: they make one any day they wish. The women staff at all the best Bora Bora resorts wear fresh
flowers or crowns in their hair, every day, which adds to the sparkling, "best island in the world"
atmosphere.

How my love for Tahitian flower crowns blossomed

I was delighted when I received my first Tahitian flower crown - from a friendly Polynesian – while
exploring the isle of Rangiroa on an 10 day cruise around Tahiti. It's fragrance was intoxicating and I
looked (and felt) like a princess while wearing it. By wrapping it in plastic and putting it in my cabin's
refridgerator each night, my romantic Tahiti flower crown stayed beautiful for several days.
My second Tahitian flower crown was a surprise, pre-dinner gift from a chef, at St Regis, who had been following Bora Bora Island Guide and knew that we were staying at the hotel. My third flower crown was a goodbye gift from staff at the sensational, new Conrad resort. They heard that my boyfriend, Tom, had proposed to me over a private dinner-for-two on the beach so made me an exquisite, white flower crown to celibrate in.

A Tahitian flower crown lends distinction to any occasion

Amazing good fortune breezed my way, shortly after arriving back from that exciting 2 week vacation in
Bora Bora. I actually won a $17,000 wedding on one of the most beautiful beaches in Australia –
Mollymook – with hospitality provided for 100 guests!
The perfect opportunity to learn how to make a flower crown arose when my best friend asked what I'd
like to do on my Hen's day. She hired a teacher who brought buckets of lovely, local flowers. So what we
created was not officially a Tahitian flower crown but we certainly borrowed the Polynesian tradition.
Each woman chose a different combination of flowers and every design was a brilliant success.
Afterwards, we lunched at a fancy restaurant in the park, like exotic goddesses, all wearing white and
adorned with our flower head-dresses. Our originality created quite a stir.

Sensational wedding flower crowns

Because of my affection for Bora Bora Island and Tahiti, plus the extraordinary success we experienced
while learning how to make a flower crown, I chose to make flower crowns to add glamour to our beach
wedding.
Time management is critical on the wedding day so I asked the florist to deliver four types of white
flowers (at a cost of $70). We took all necessary tools to the hair salon and a table was set up for us to
work on, inbetween having our hair and make-up done. My 13 year old junior bridesmaids completed
each crown that was left unfinished when someone moved to a treatment. The energy in the room was
glorious. Making our crowns was a highlight of the day and transformed us into stars. Legendary Tahitian
flower crowns add fresh magic to an outdoor wedding, especially a wedding on a white-sand beach.
Now that I know how to make a Tahitian flower crown I'll take wire, cutters, and florist tape on my next
Bora Bora vacation. If you see a blond sitting blissfully under a tree, creating a traditional, Tahitian
flower crown – out of tiare, frangipani and hibiscus – it'll be me having fragrant fun!
Tahiti flowers are a feature of paradise, especially around the luxury Bora Bora resorts. They flourish in
the Society Islands and drop, like confetti, under bushes and trees. Meet the flowers of Tahiti so that you
can recognize them and dream up a fabulous Tahitian flower crown of your own.

Search the Site

Are you still looking for additional information? You can use the Google search box below to search the site.