Tropical Flowers of Tahiti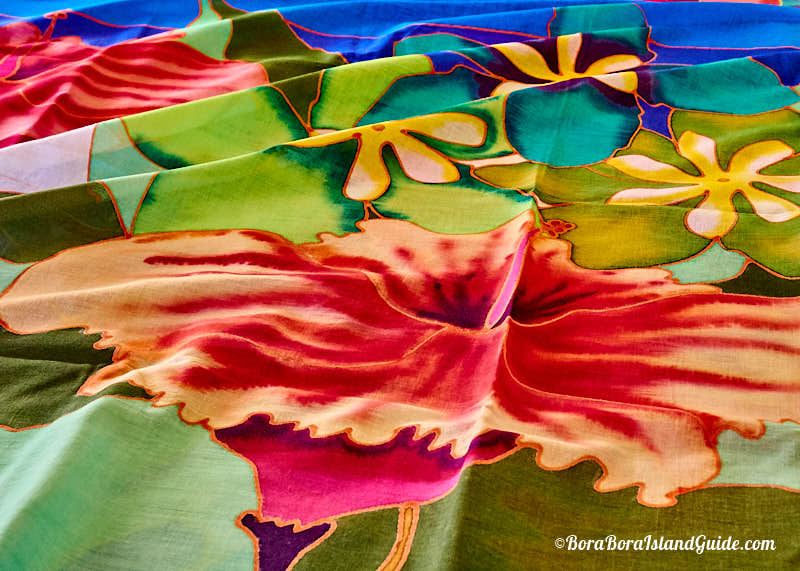 Tiare Tahiti
Amongst the many gorgeous flowers of Tahiti, Tiare takes first prize! Tiare grows as a bush with small, white, seven-petal blossoms exhuding a delicate, sweet scent. Sometimes tiare is called the Tahitian gardenia, due to it's exquisite perfume and fragility. Polynesians have traditionally valued Tahiti tiare flowers imbued in coconut oil as a perfumed moisturizer or massage oil.

When traveling in the islands you soon realize that Tahiti tiare is a main emblem of French Polynesia (along with the well-known Hinano girl). These "signature" flowers of Tahiti appear on logos for banks and airlines, and are featured on all kinds of design. For special occasions the tiare shows up, in all it's glory, in fragrant Tahiti flower crowns and leis.

Hibiscus
Known as pureu in Tahitian, hibiscus is a striking symbol of all South-Sea islands and one of the most prolific flowers of Tahiti. Hibiscus blooms in a brilliant palette of yellows, oranges, pinks and reds. The splendid petals can be double and their edges scalloped or chiselled with tiny frills. I bet you know it (even if you didn't know that you know it) from the colorful floral shirts that have been popular beach-wear for many years.
Frangipani
One of the most luscious flowers of Tahiti, frangipani, now blossoms in warm climates around the world, as it's easy to propigate. The waxy, white, yellow and orangey flowers are beautiful to behold, plus prized for their exotic perfume. Frangipanis often feature in flower crowns and leis.
If you get the chance while on a Tahiti vacation, hire a car and drive around the main island of Tahiti or the garden isle, Huahine, to spot the huge, old, frangipani trees blossoming in rare oranges and reds.
Heliconia
There's a wide variety of plants in the heliconia species and their bright flowers all bloom as striking sculptures. They can dangle from the foliage like a vine, or sprout from the end of a stalk like a lobster claw. Heliconias are the exotic flowers of Tahiti used frequently by grandmothers (mamas) to create floral decorations for parties. Often, coconut-palm fronds are wrapped around functional posts, to make them attractive, and splendiferous heliconia flowers are tucked in. Heliconias are chosen for special effects as they're indelible sculptures and longer-lasting in heat.
Orchid
Orchids thrive in the tropical climate and rich, volcanic soil on the high Islands of Tahiti. A variety of orchids can be seen but the most common is the vanilla orchid. Each vanilla flower is only open for 5 to 6 hours and must be hand pollinated due to an absence of the only bee clever enough to find entry. These flowers of Tahiti produce the world's most tasty vanilla pods and are sought after by all the best chefs.
Pristine Taha'a is called the vanilla isle. A visit to a vanilla farm using natural cultivation methods is an extraordinary experience and a lesson on why prime, plump pods are so pricey! If you visit Tahiti, plan to take home vanilla pods and some lustrous Tahiti pearls (which you can buy for a few dollars or the price of a car).
Ginger
Ginger roots (which store for long periods) were one of the resources packed into canoes, along with multi-purpose coconuts, when the Polynesians set out from Asia on adventurous voyages to discover islands in the Pacific. While hiking the inner isle on Bora Bora you can see ginger growing wild around the remnants of ancient villages.
Ginger flourishes in warm, wet weather so there are several varieties growing around Tahiti. Naturally it's used in dishes, but it's a surprise to find that it's one of the treasured flowers of Tahiti! Mamas pick the flowers of red torch ginger (which has strong, red blossoms with layered petals and a large, full center) and symmetrical cone-shaped pink ginger to create floral arrangements.
Jasmine
The small, sweet, white, Jasmine blossoms; known in Tahiti as pitate; are utilized in soaps and perfumes as their fragrance is strong. Jasmine flowers are also collected for making Tahiti flower crowns and floral leis.
Tiare Apetahi
Tiare apetahi is the most rare of the flowers of Tahiti. Tiare apetahi only grows in one place in the world, on the sacred island of Raiatea. The extraordinary Tiare apetahi has 5 delicate petals which close as darkness approaches and re-open, with a soft cracking sound, at dawn.
There's a tragic Polynesian legend woven around the delicate tiare apetahi. It tells of a the impossible love of a beautiful Tahitian maiden whose heart was captured by the son of a king, whom she was not able to marry. The petals of the apetahi represent the 5 fingers of the girl and the cracking sound is of her heart breaking.
Tahiti Flowers Bloom in Valleys, Vases and Hair
It's eye-opening to see how Tahiti flowers create joy in everyday life and give important messages without saying a word.
Find out what a significant place a Tahitian flower crown has, in Polynesian culture. Follow these simple steps on how to make a Tahitian flower crown and add the glamour of wearing floral art for celebrations.
Search the Site

Are you still looking for additional information? You can use the Google search box below to search the site.