Visit a Tahitian Vanilla Farm
Visiting a Tahitian vanilla farm is the best way to find out about the methods of growing Tahitian vanilla and the cheapest place to buy Tahitian vanilla of the highest quality.
I have visited both types of Tahitian vanilla farm and encourage you to find one that uses the natural method of growing. We really enjoyed our trip to "La Vallee de la Vanille" on untamed Tahaa and gained a deeper understanding of the Polynesian people on the excursion.
I excitedly purchased my first bag of high quality Tahitian vanilla pods and felt that I was getting great value because it was cheaper than at markets in Tahiti.
To get to La Vallee de la Vanille we took an exciting day tour with L'excursion Blue. We were on a Princess cruise, visiting 5 different islands, and taking this boat trip gave us the opportunity to also explore the famous vanilla isle. A Tahiti cruise is a fantastic way to see a selection of gorgeous French Polynesian islands. Before flying to French Polynesia we booked this excursion to a Tahitian vanilla farm with Bruno Fabre. He picked us up (a little late, a colorful Frenchman running on island time) from the wharf at Raiatea, and sped our party across the ocean to Tahaa, in his sea­worthy boat.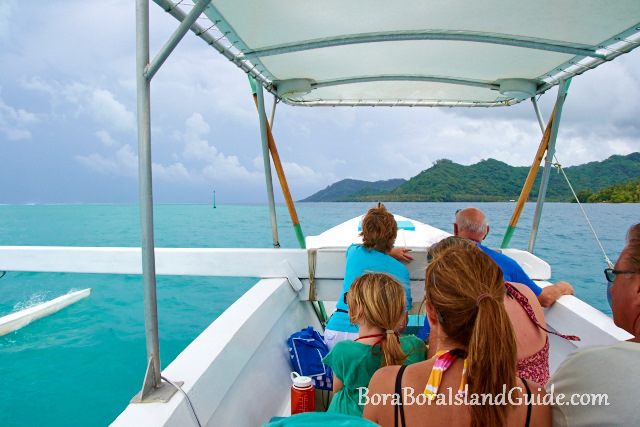 Arriving by boat to the "vanilla island" of Tahaa
Boat is the main form of transport around Tahaa. So for one of our stops we docked near the Tahitian vanilla farm and had an enchanting stroll along the waterside to a gardened cottage with lush jungle behind. We were greeted effusively by flowering plants, and a smiling mamma who enthusiastically shared her passion for growing Tahitian vanilla the natural way.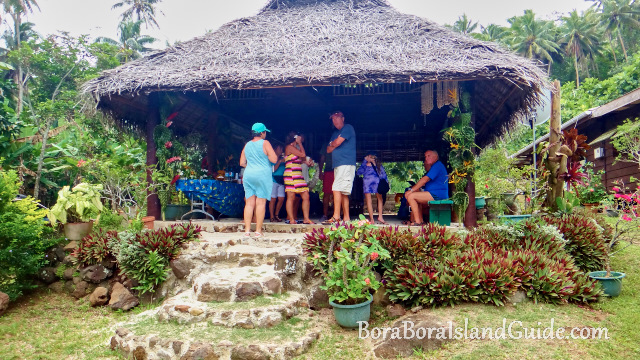 The gardens around the vanilla farm were lush with tropical flowers
First mamma served refreshments in a little hut which displayed vanilla products.

Tahitian refreshments of coconut, banana and tropical juice were laid out to welcome us
A vanilla vine growing up an acacia tree

After satisfying our thirst she led us into leafy terrain where we began recognizing vanilla plants climbing up shady acacia trees. We could see how their tentacles grab and hold, allowing the vine to grow several millimeters per day. Our hostess informed us that she only harvests 3kg of vanilla pods from each plant, compared to the 12 kg per post that can be harvested in a greenhouse.

She proudly told us that only 40% of Tahitian vanilla farms still use this growing method. Her warm, dynamic personality pronounced that most Tahitians have become lazy.

Mamma explained how her family must rise early to hand pollinate during the flowering months from September to November. Each flower only blooms, with the promise of fruit, for up to 6 hours.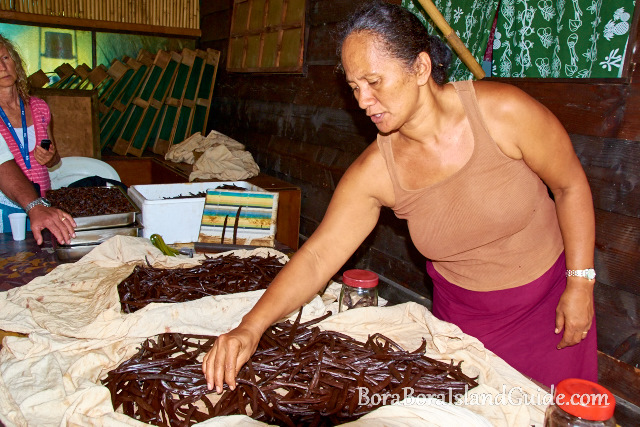 After the beans are picked they must be sorted for size or the smaller ones would dry faster and lose value. Next beans are washed in cold water. When the beans turn brown workers lay them out for sun-­drying on metal sheets which may get up to ninety degrees before paper and beans are placed on them. We learned that the flavor of small sized ones is equal to larger beans. The higher grading and price of beans measuring 16 centimeters long is merely about visual appeal and moisture content.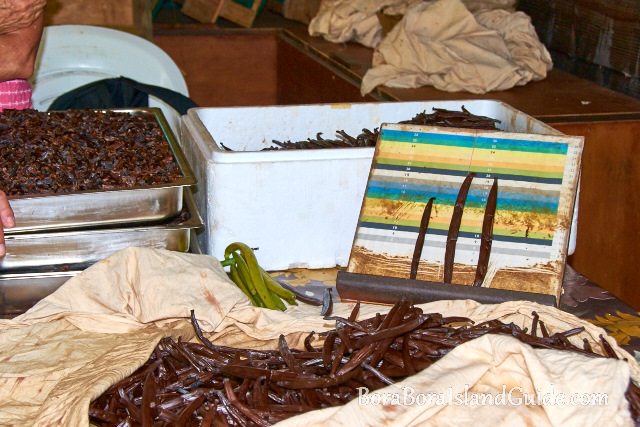 grading the length of the vanilla beans
Wages are high in French Polynesia so mamma likes to involve the whole family in the constant attention needed to produce a superior crop on a natural Tahitian vanilla farm. Her biggest problem? When the sun is shining the vines need tending. But when the sun is shining, the children want to go to the beach! And it's not far away. She's concerned that her children won't like her because she makes them work.

Beans sold on a Tahitian vanilla farm are encased in a special wrapping, and officially labeled, to allow smooth passage through customs when you arrive home. My suitcase was imbued with a fragrance of Tahiti and I have been exploring ways to use the world's most exotic beans ever since. If you go to Tahiti, buy some and discover the difference!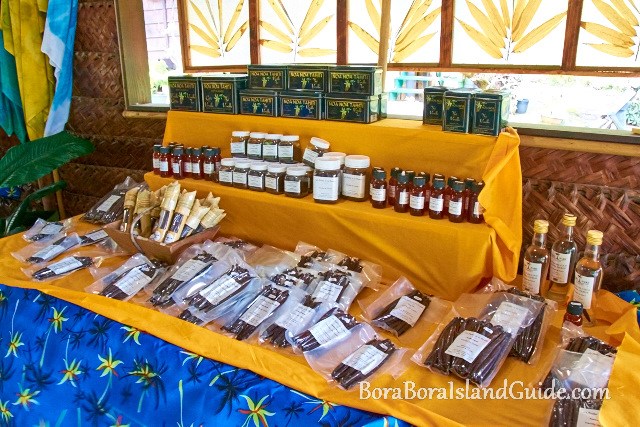 Vanilla beans and vanilla prducts made by the farm were available to purchase
Knowing all this has increased my appreciation for Tahitian vanilla and the hardworking islanders who are still growing Tahitian vanilla the natural way.

We would like to acknowledge our wonderful hostess at:
La Vallee de la Vanille, Tahaa
Tel: (689) 65 74 89
No de Tahiti: T549980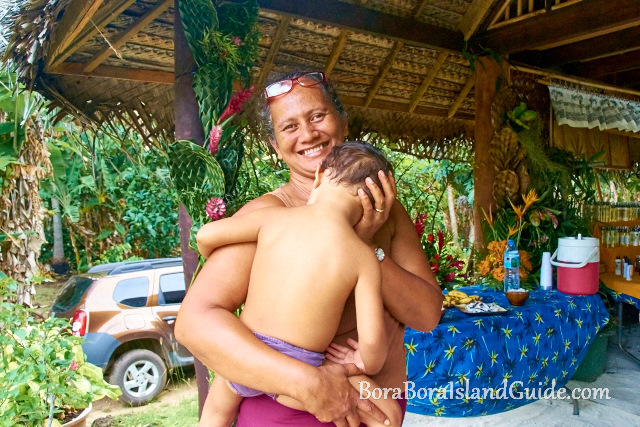 Search the Site

Are you still looking for additional information? You can use the Google search box below to search the site.