Best Time To Go To Bora Bora: Festivals & Celebrations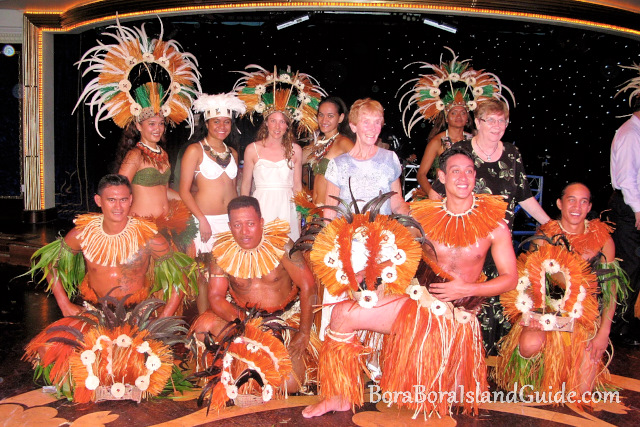 Here's what makes festivals and holiday celebrations the best time to go to Bora Bora. Leave your hectic pace behind and party on the most beautiful island in the world.
Tahiti Heiva
The Heiva (meaning festival) dates back to 1881 when it began as the Tiurai (July in Tahitian) Festival. Long before, a pagan festival was held at this time to mark the southern hemisphere solstice. The Tahiti Heiva is now the biggest event of the year throughout French Polynesia. In Bora Bora it begins in mid June and continues until mid August. If you want a festive spirit and can afford the higher cost of airfares and hotels during the peak season, this is the best time to go to Bora Bora to experience the Polynesian culture.
Enthusiastic villagers build carnival stalls with woven palm frond walls and thatched roofs. These are decorated with colorful wall hangings, flowers and leaves. They become restaurants and galleries offering all kinds of competitions during a whole month of festivities.
This is the best time to visit Bora Bora to join in the fun with the locals. Each village has it's own dance troupe and singing group. You'll see traditional sports events, arts and crafts stands, and there's games for children.
World Tourism Day
World Tourism Day is on September 27th but in Tahiti they have a full week of festivities on all the most visited islands. There's traditional singing and dancing shows, art and craft exhibitions, Polynesian bands playing in the streets, and hostesses giving out flowers to tourists. The islanders are recognizing the importance of tourism in their lives.

Celebrations Tahiti Weddings
If you're a lucky couple planning to marry in Bora Bora you will want to decide the best time for a Tahiti wedding. A first consideration is the Bora Bora weather so that you're not having photographs taken in the rain.
There are more sunny days and clear skies during the dry winter season. This is the most popular time for Tahiti vacations so you must book ahead for a wedding chapel or wedding planner at one of the fabulous Bora Bora resorts. If a big resort wedding isn't for you, consider getting married in an intimate private ceremony with a celebrant.

The shoulder season months actually have less wind, while also having plenty of sunshine hours. So if having fantasy photographs taken of tying the knot in paradise (without your hair blowing around) is of major importance you may want to choose from the months each side of winter.
If pricing is a consideration you will find cheaper deals, on Tahiti airfares and Bora Bora resorts, during the shoulder season. There will also be more availability.
Valentine's Day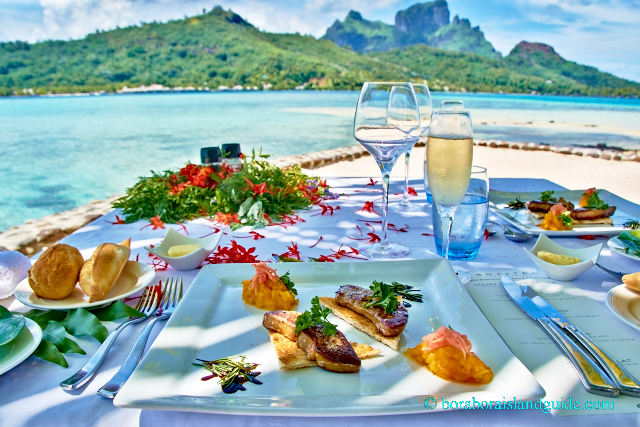 For romancing her (or him) the ultimate Valentine's gift is an over water bungalow stay in Bora Bora. If you'd like to delight your sweetheart, the best time to go to Bora Bora may be around the 14th of February. Tahiti and Her Islands celebrate this world-famous holiday with entertainment in the streets. The shops and boutiques are decorated and some have displays of sexy French lingerie and gorgeous Tahitian pearl jewelry. The islands of love make a fuss for Valentine's Day. It's a perfect time for a Tahiti romantic vacation.
A private lunch on the beach is the ultimate romantic dining experience in Bora Bora. Read about the most memorable meal of my life at the Sofitel Private Island.

Even if you prefer to go later in the year, you can make a big impression at Valentine's by giving Tahiti airfare tickets as a surprise.
Christmas
Want to escape winter, and soak up some sun, while someone else takes care of preparations for the festive season? Christmas in Bora Bora will be the highlight of your year. The resorts go to extra effort on Christmas eve and Christmas day. There's special menus (including roast turkey with chestnut sauce) and Tahitian dance shows.
New Year
New year celebrations at the Maitai
Fantasizing about partying in warm weather on the world's number one island? New year would be the best time to go to Bora Bora. Some of the amazing Bora Bora resorts have a fireworks display over the lagoon so, to have a great view, you may want to stay at, or near, one that does.
Search the Site

Are you still looking for additional information? You can use the Google search box below to search the site.