Activities in Bora Bora Four Seasons Resort
This list of activities in Bora Bora Four Seasons Resort grounds would keep most vacationers happy for a week. There are also other entertaining things to do in Bora Bora, from Four Seasons, that you can't enjoy anywhere else on earth.
Complimentary Activities in Bora Bora Four Seasons Resort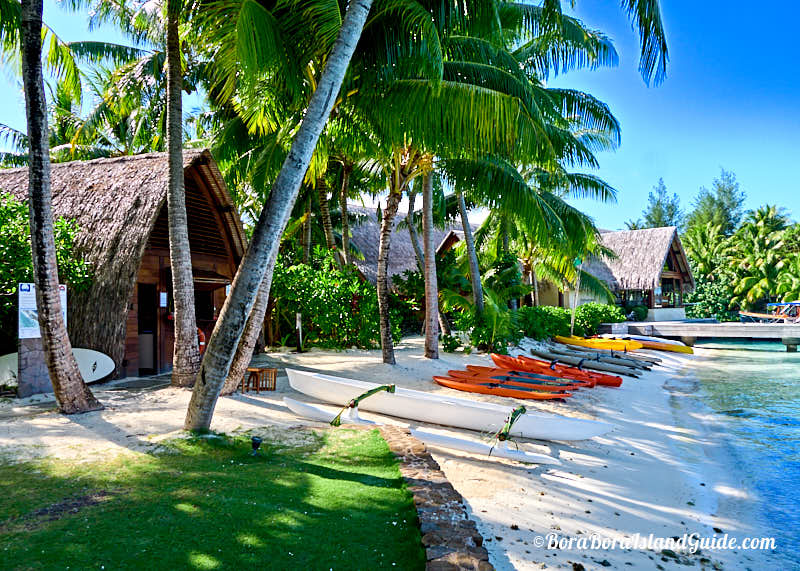 Row a kayak and stand-up paddle board from the main beach.
Watch Tahitian divers feed reef sharks and bat rays.
Explore the inner lagoon which has a coral regeneration program. Goggles, snorkels, reef shoes and flippers are provided at the water sports center.
Play beach volleyball and badminton.
Try your hand at boules, which originated in the south of France and is similar to bocce ball.
Play tennis on 2 artificial grass courts set amongst tall shady palms. The use of racquets and balls is complimentary.
Ride on one of the world's most advanced water bikes, designed to give a fast exhilarating way of getting around on the water.
Work out at the gym with a view to the Pacific Ocean.
Paid Activities in Bora Bora Four Seasons Resort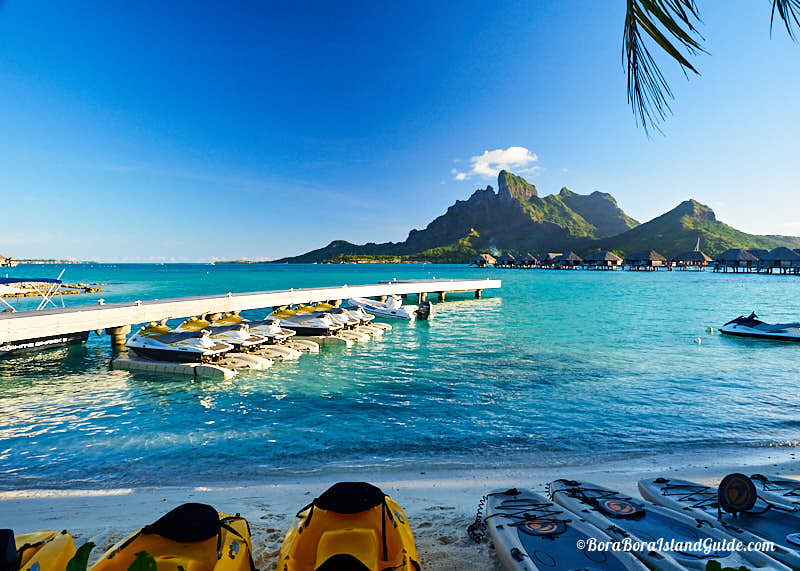 Circle the island by waverunner , departing straight from the resort's beach.
Participate in the weekly tennis clinics including: Introduction to tennis, Cardio tennis, Doubles Strategy, Groundstrokes, Advanced Drills, and Tennis Drop-in. Group lessons are $50 per hour. The tennis coach, Philippe, a professional player, also gives private lessons for $130.
Learn to windsurf with a private lesson or maximum of 4 persons in a group of beginner or experienced wind surfers. Book in advance with the concierge. Prices for a private lesson are around $226 for an hour and a half, and $170 for a 2nd person.
Have private kite surfing lessons at a beginner, intermediate or advanced level, $425 for one person and a 2nd person pays $100.
Participate in yoga on the stunning over water platform with prices starting at $30 per session for a group experience.
Go scuba diving as a beginner or experienced diver. A shared 2 tank dive is $210.
Romantic Things To Do in Bora Bora Four Seasons Resort
Record memories with a professional photographer. The lovely grounds of this resort, with the beauty of Bora Bora Island and Mount Otemanu across the water, provide romantic settings for professional photographers to capture some extraordinary moments of your special vacation.

Visit Tahia and Tresors boutiques. Tahia chooses the most exquisite Tahiti black pearls for her sophisticated Tahitian cultured pearl jewelry designs. Four Seasons guests are fortunate to have her treasure stores. Go have a fascinating eyes-on lesson, from her staff, about what makes a black pearl so valuable. Tahia's impeccable taste inspires Tresors boutique, alongside. Whether you've overlooked bringing something from home, or want to take a beautiful souvenir back, you'll find something to admire there.
Four Seasons sells "A pearl Story" private 2.5 hour snorkeling tour, with a photographer along to capture your unique experiences. A surprise mother of pearl shell is waiting to be found at your last stop. The tour costs about $1060 for a couple but the price of a pearl is not included.
Have a private dinner on the beach. For just under $1000 you and your loved one can share a private dinner for 2 on the beach by candlelight. A personal waiter will serve you for for the evening as you watch the sun set.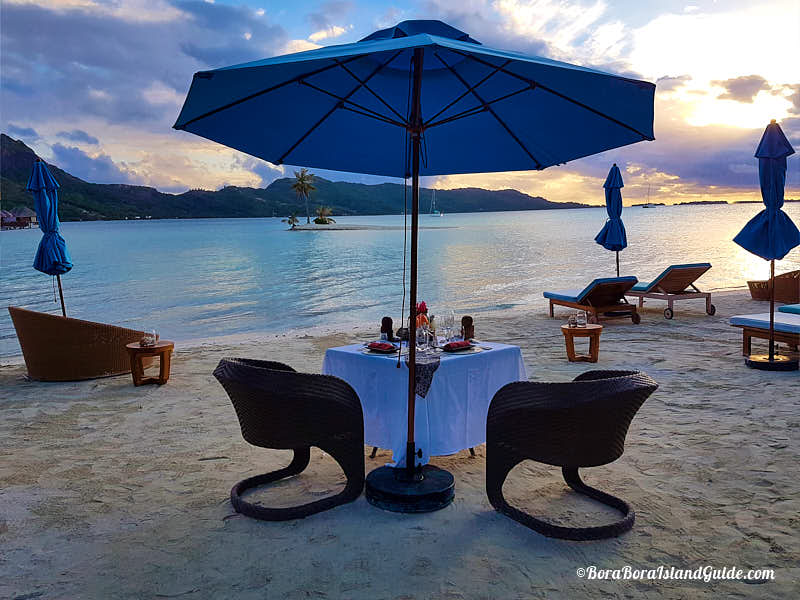 Engage in cultural activities
Lucky children who attend Four Seasons kid's club can engage in creative cultural activities every day. Grown-ups have the weekly Four Seasons Bora Bora Polynesian dinner show to experience the joyful traditions which live on through the local people.
Unique Activities in Bora Bora 
The Four Seasons Resort recommends some of the most exclusive - and wonderful - things to do in Bora Bora. Fortunately the best excursion providers pick guests up from the resort's dock. Honeymooners can consider adding tours to their gift registries as the prices match their level of exclusivity. Some of these tours are hosted by small providers that you won't easily find on the web, so the resort makes it easy to book.

What To Do in Bora Bora at night?
Four Seasons exudes a quiet romance in the evenings - except when the drums begin beating on Polynesian night. Most guests relax over drinks on their deck or in the Sunset Bar, followed by a Four Seasons dinner. Fare Hoa, on the beach creates a vacation mood with live entertainment. If you're wanting to try some other places to eat in Bora Bora there are (limited) shuttle boats, their price is higher than other resorts, and your concierge can arrange for the restaurant's free shuttle to meet you when the boat docks on the mainland.
Here are your options for what to do in Bora Bora at night.
Bora Bora activities and excursions you can book yourself
Want to choose from the best activities in Bora Bora and not be waiting at the concierge desk when you could be on the beach? Here are all the most popular activities in Bora Bora, along with their prices, and availability. Book to secure your place before you go. When choosing, we want you to know that although private tours have some advantages, we've always had a terrific time taking small-group excursions too.
Search the Site

Are you still looking for additional information? You can use the Google search box below to search the site.