Four Seasons Bora Bora Review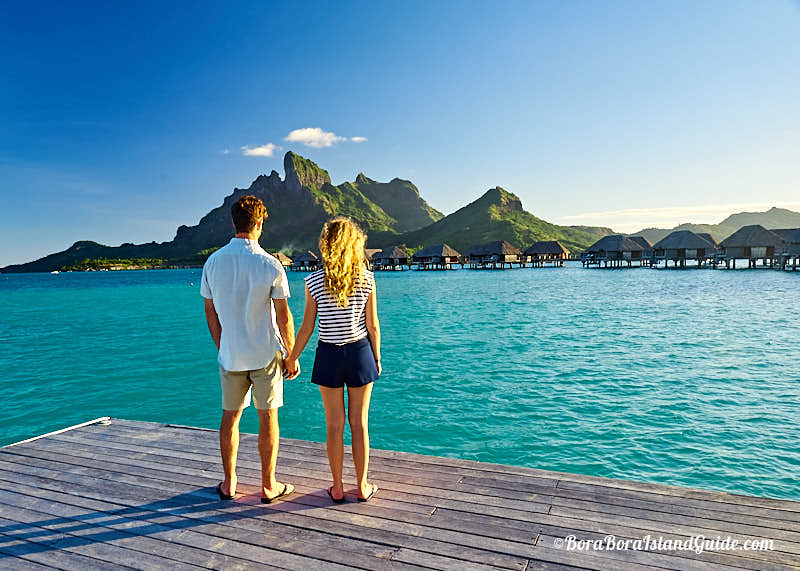 Writing this Four Seasons Bora Bora review has me purring: it's a chance to relive the beauty, luxury, and pleasure we experienced at this top resort.

Four Seasons sets the stage for an ultimate island vacation. Guests can romp around the enchanting resort grounds - enjoying a variety of activities - or hide away in pampered bliss! During our extraordinary stay, we experienced both styles of vacation. Somehow this resort encompasses the needs and desires of all its guests so beautifully, that we have compiled an outstanding Four Seasons Bora Bora review!
Easy Arrival
With so few passengers on a plane, and such a tiny island, the Bora Bora airport is the easiest on earth to pass through. Four Seasons made it even easier. We quickly collected our bags and moved to the area where Bora Bora resorts meet their guests. A staff member from Four Seasons was awaiting us with the traditional, fragrant lei; and bottled water.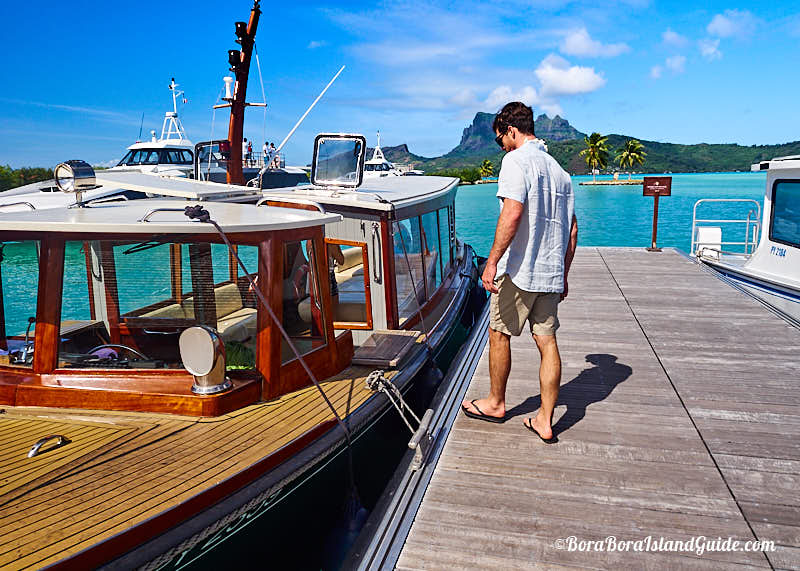 Our luggage was loaded straight on the shuttle boat, which we shared with a group of friends from Florida. They were as excited as us, to be heading to Four Seasons Bora Bora - to fulfil a dream - so the trip across the lagoon was fun, friendly and - like everything, during our stay - over too quickly!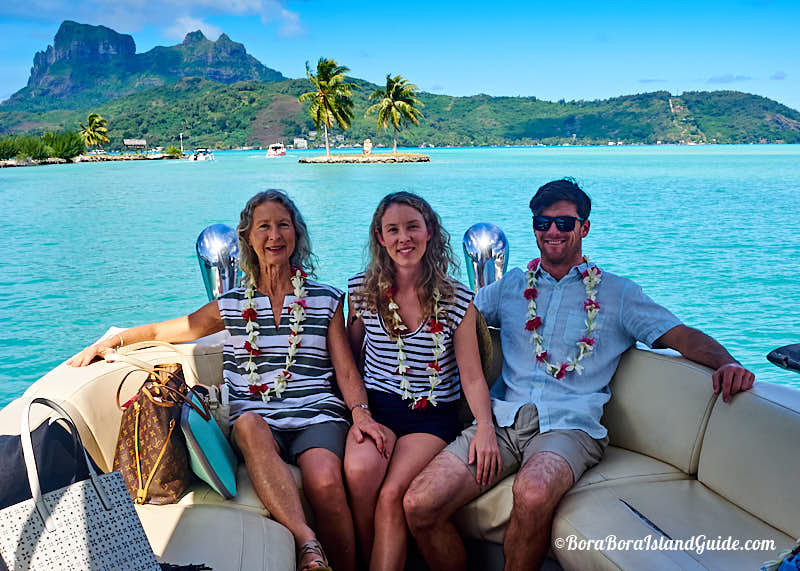 The Four Seasons shuttle boat is the most elegant on the lagoon.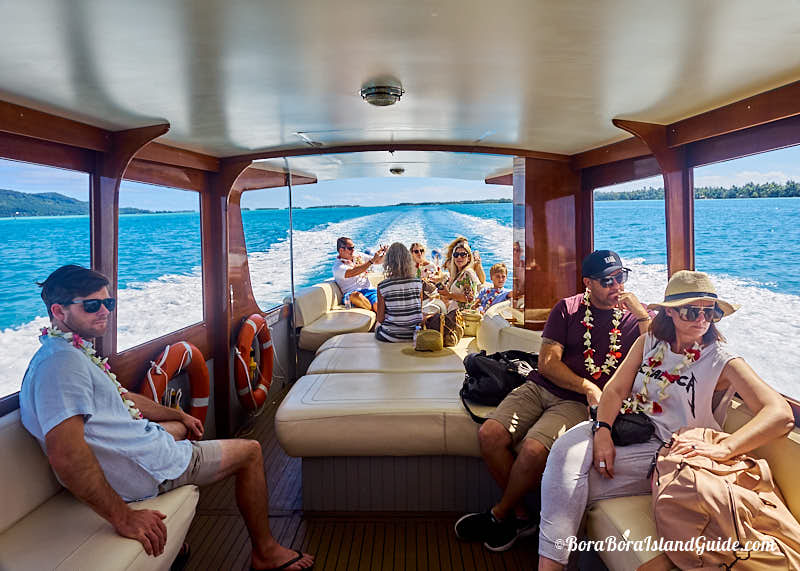 Our vacation began in the airport shuttle
Views across the lagoon on the boat ride to Four Seasons Resort
Quick check-in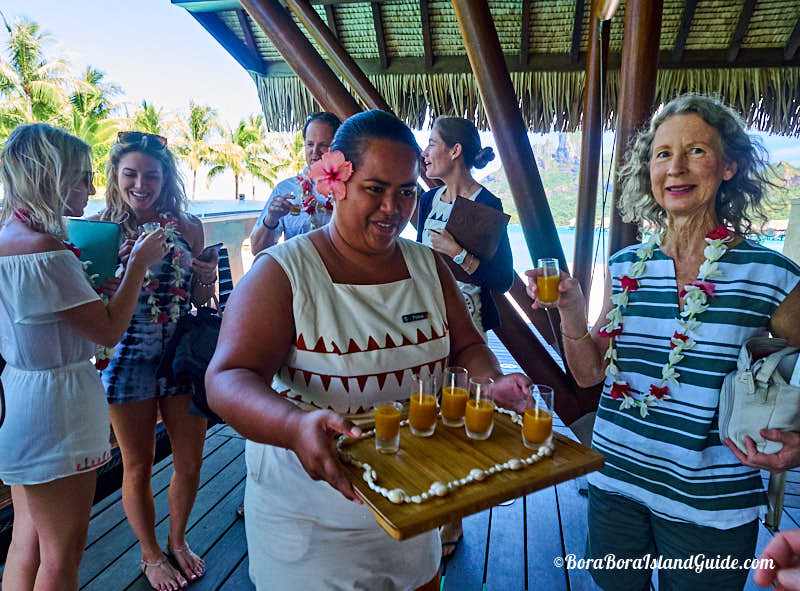 A warm Polynesian welcome
As we stepped from the shuttle boat, onto the Four Seasons dock, we were warmly greeted by a hostess offering fresh juice. Then another staff person scooped us into a golf cart and whizzed us - in awe - through the glorious grounds to our over water bungalow.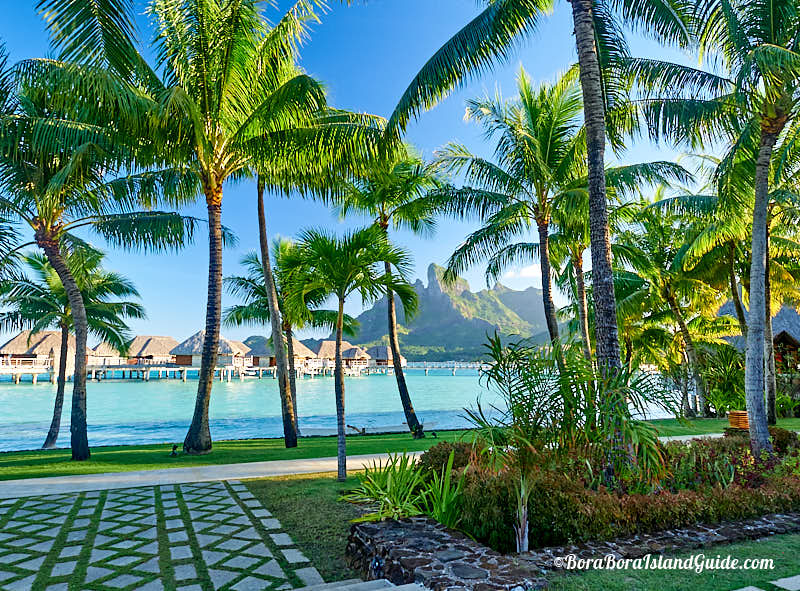 She allowed us a moment to ooh and ah, before sitting us down in comfort, to fill out the paperwork. All we weary, excited travelers had to actually do, was sign on the dotted line. While she was sharing basics about the resort, our luggage arrived, and she left us to explore our beautiful bungalow. It was the smoothest arrival we've ever had at a Bora Bora resort!

Welcome treats from the Four Seasons
Dream over water bungalow

Our lagoon view over water bungalow
The first thing that delighted us about our Four Seasons overwater bungalow was that every spacious room had wide glass doors to push open and let in the sensational lagoon view.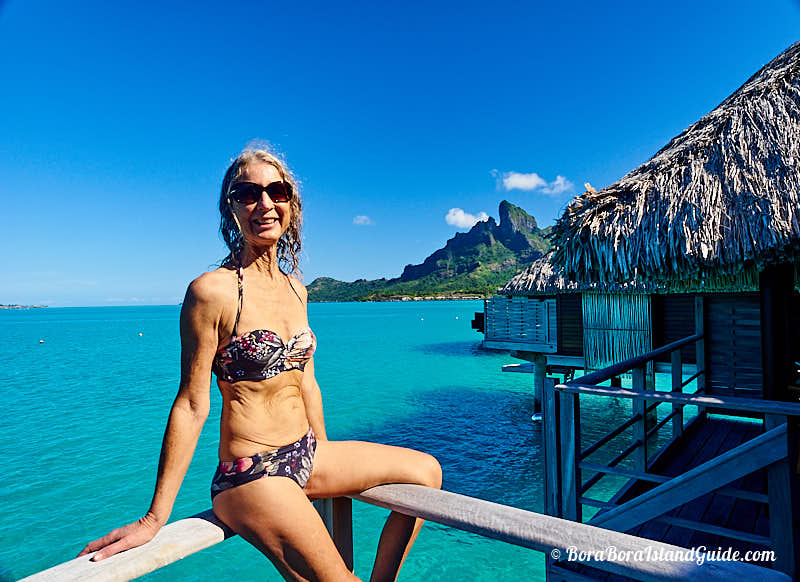 On stepping out to the wide deck we realized that our Lagoon View Bungalow also gave us a peep at Mt Otemanu. The bed, the bath, and the living room, overlooked the lagoon; yet we had complete privacy! The huge bathroom was probably the most luxurious aspect of our bungalow, but dining under our Polynesian patio on the deck certainly rivaled the decadent experience while bathing. We knew every moment that we were over the world's most beautiful lagoon - which is exactly what we had come for!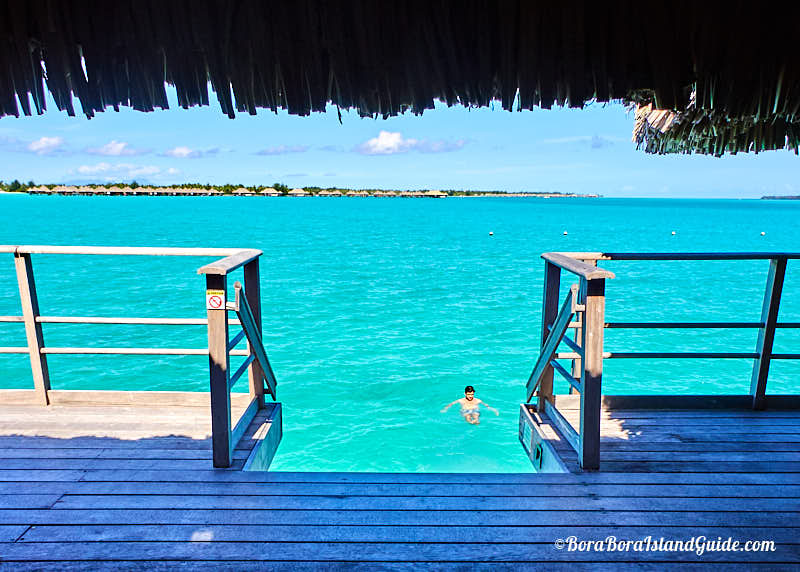 The first thing we did was jump in the lagoon!
We split our stay between an overwater bungalow, and a 2 bedroom Beachfront Villa Estate: to experience both styles of vacation. No Four Seasons Bora Bora review would be complete without gushing about the indulgent size, privacy, and extra perks provided in the on-land beach villa! We landed in the lap of luxury.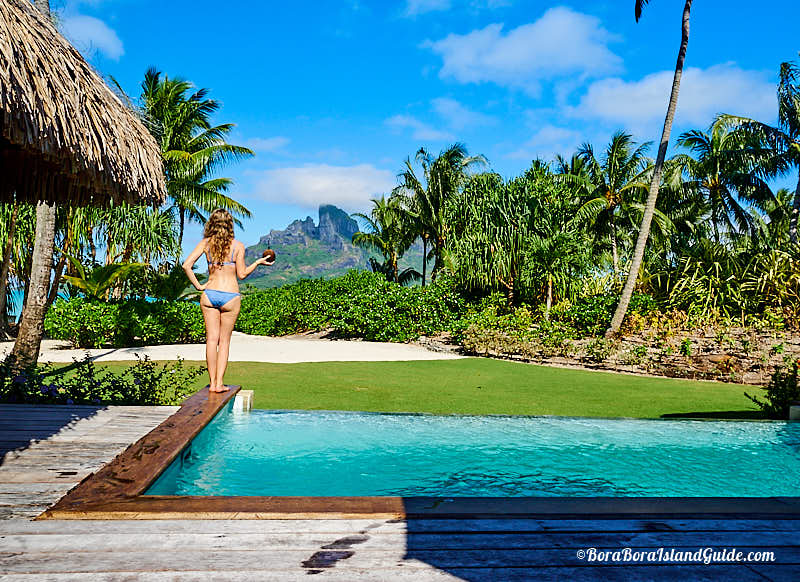 Our Beach Villa had a private pool with view to Mt Otemanu!
Four Seasons beach paradise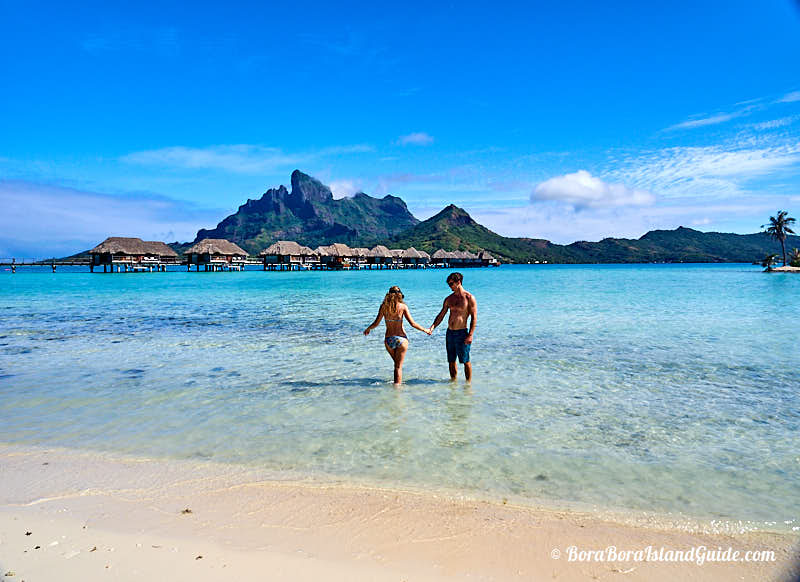 For weeks after our vacation, I kept having flashes of being on the beach at Four Seasons with fine white-sand, the bluest of water, thatched-roof bungalows, and the majesty of Mount Otemanu, as my landscape. I must include the artistic clouds, attracted by land, moving over Bora Bora's rocky outcrop, and passing in ever-changing formations over my head.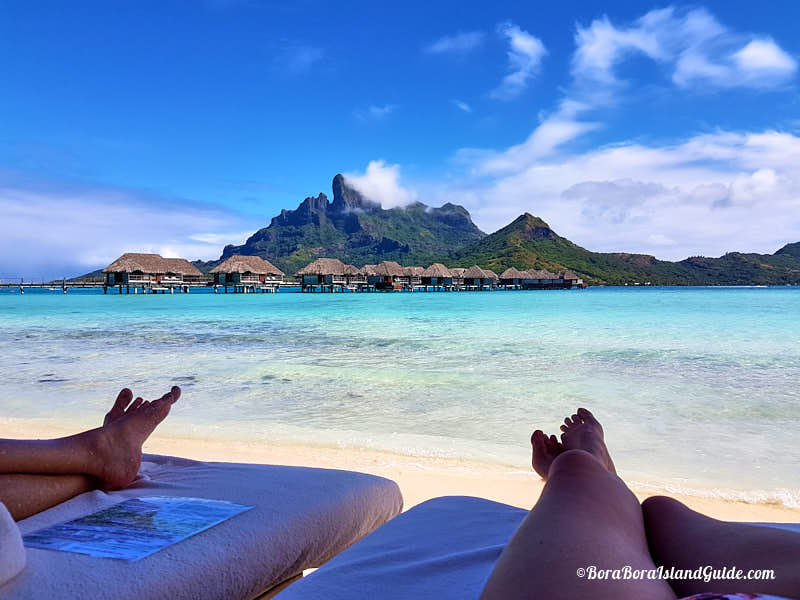 There was so much beauty and peace I had to lay back on my sun-lounge, for hours, just thinking it all in. I preferred a niche right at the lagoon edge, so I could see the water behind my toes. Yet the waiter from Fare Hoa was there as needed; adjusting the umbrella, bringing iced water, and reminding me - at a few minutes before 4 pm - that I might like to order lunch. This is why it's called Paradise! If you want to cool down and have this  view in the lagoon, bring your water shoes as there are small pieces of coral in the shallows.

Four Seasons perfect pool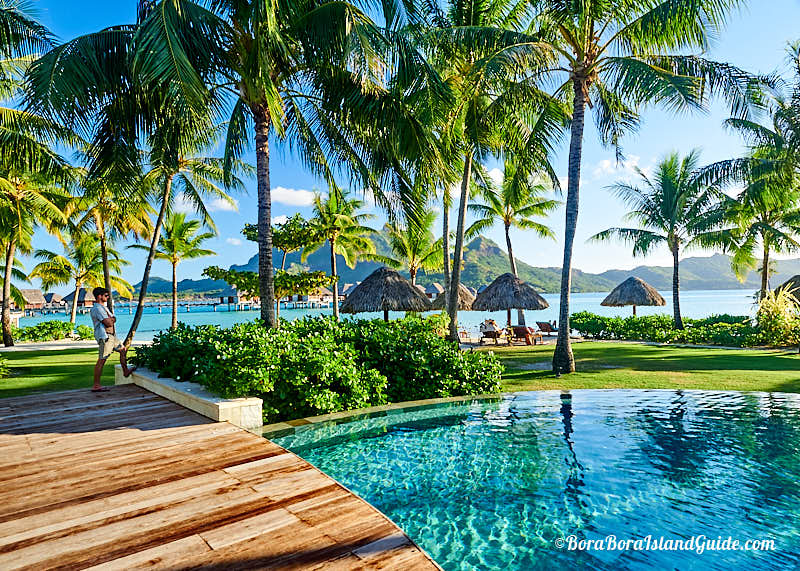 I get dewy-eyed just thinking of the luxurious Four Seasons pool setting; overlooking the smooth sandy, beach and turquoise lagoon; with Mt Otemanu as the backdrop. The water temperature of the pool is perfect too. Each time we passed by; inviting deck chairs, fitted with fresh towels awaited us; along with umbrellas for shade.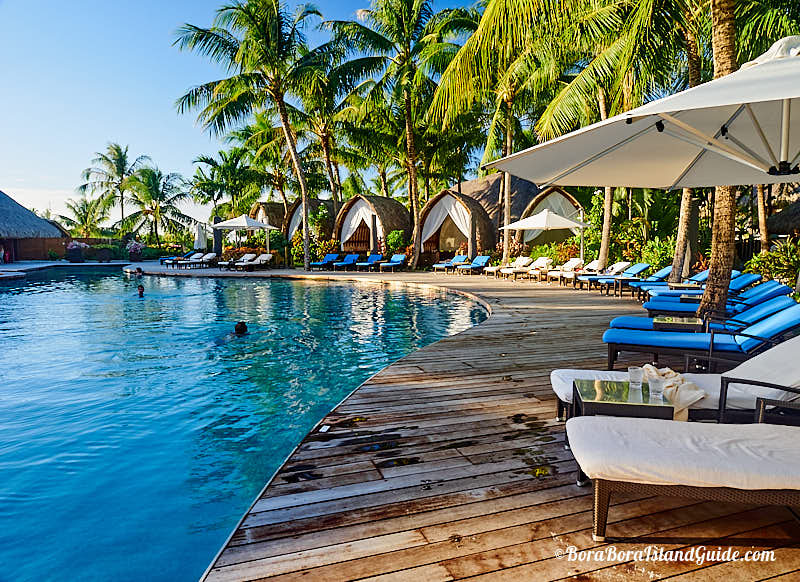 At the back of the pool, a row of exotic cabanas were furnished with soft, cushioned couches. They offered privacy and sun protection, so were perfect for a cuddle or a reading session.  Although the resort was full, there were always fresh towels and complimentary sunscreen available. The pool staff regularly came around, offering iced water and little treats, through the day.  

Four Seasons resort grounds

We're talking Bora Bora: all the resorts are in heavenly settings; and Four Seasons was the last resort to tick off on our bucket list. We thought we'd seen it all, yet even we were amazed when viewing these resort grounds the very first time; they're beyond beautiful! We were amused to hear a 10 year old boy, who'd only stepped off the boat a few minutes earlier; ask his mom if they could live here. But we could see why!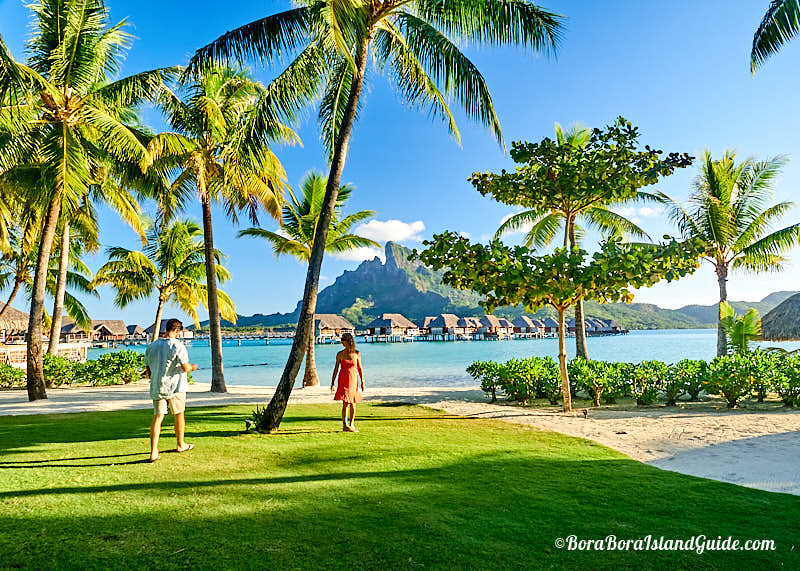 The distances between the best Four Seasons overwater bungalows, at the end of the pontoons; and the main facilities are long. But walking around the Four Seasons Bora Bora resort grounds is actually one of the pleasures of being there. If the weather's too hot, or you're late or lazy; you can call for a golf car to rattle you around, but you miss out on the tranquility of strolling.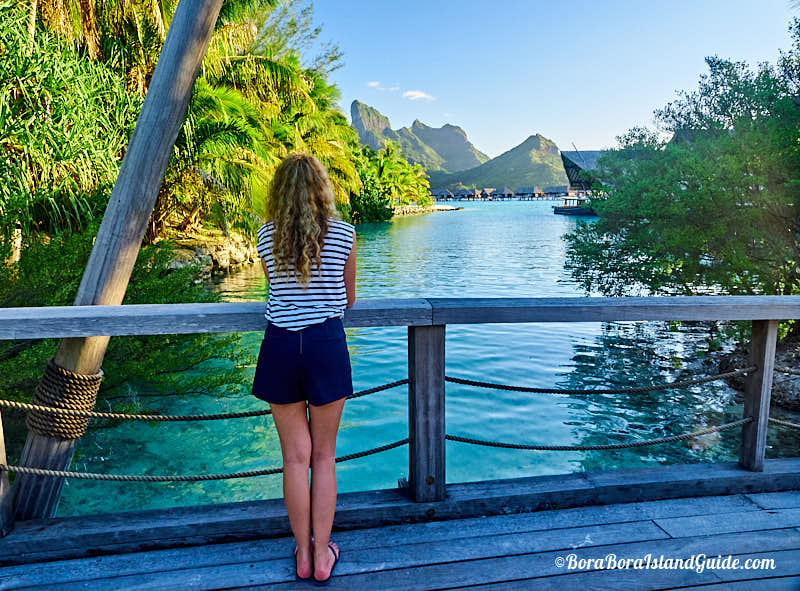 Four Seasons Bora Bora review of food

We're accustomed to very high quality food, back home. So we were pleased to enjoy all our meals at the Bora Bora Four Seasons restaurants. The service was exceptional too. Between the different restaurants and a Polynesian dinner, we consider that there's enough variety and choices to eat happily for a week. You don't have to pay top dollar either; we loved the food and friendly service at casual Fare Hoa on the beach.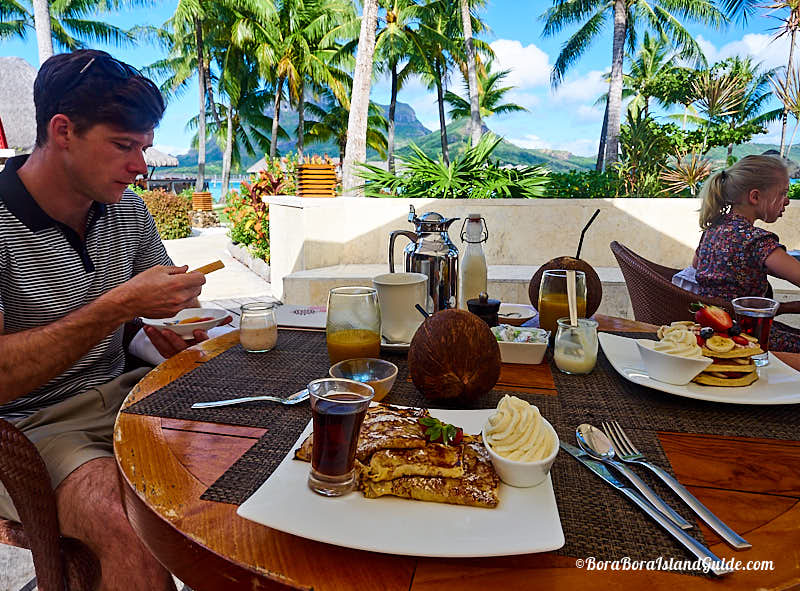 The breakfast buffet is amazing - but try the à la carte menu too!
Also, the fantastic in-room dining menu makes eating on the deck of your bungalow a fun option. Our Four Seasons review of food declares the nosh at this resort to be some of the best we've eaten in Bora Bora. This is fortunate, because unless you book the recommended sunset cruise with dinner which picks guests up at the resort dock, it's not easy to leave Four Seasons in the evening.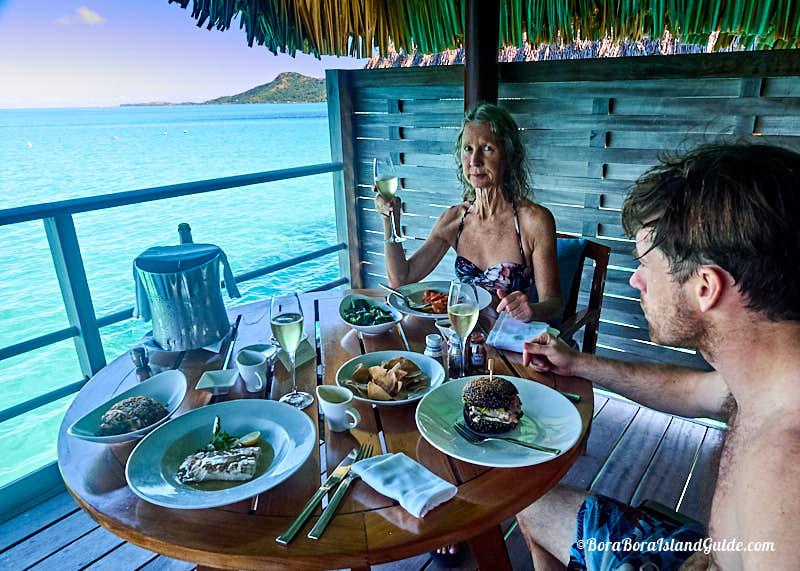 We loved not having to leave the bungalow to eat!
Activities in Bora Bora Four Seasons Resort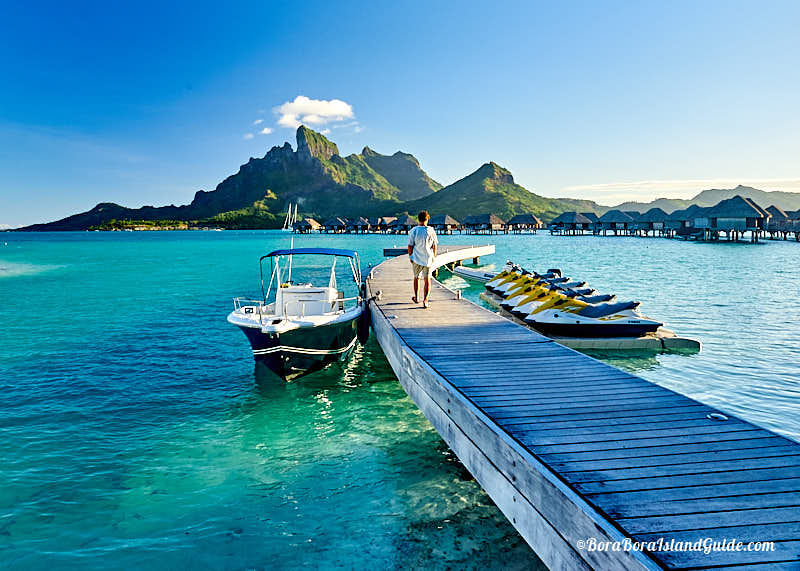 The Four Seasons has their own jet skis
There are more complimentary activities available at Four Seasons than at other Bora Bora resorts. It's easy to have a memorable vacation without having to leave; except to take a lagoon excursion, and you can choose one that will pick you up right from the resort's dock. The Four Seasons also has some exclusive activities, on its books, that offer exceptional experiences on private tours around Bora Bora. The only thing we missed at this resort are bikes to ride around on!

Book for the Polynesian dinner show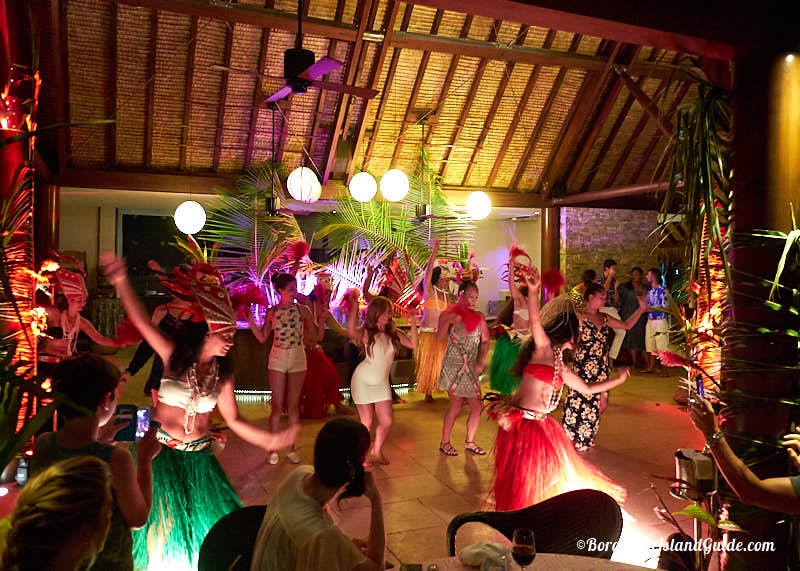 Four Seasons Polynesian dinner show  gives guests more enjoyable participation than at any other resort. We all enjoyed seeing guests forget inhibitions and join in the dancing to act out stories with the Polynesian performers. When planning your Bora Bora vacation, make sure that your stay includes the lively Polynesian dinner night. During our last visit it was Monday, but do check because it's well worth the cost; it doesn't just give insights into culture, it's so much fun. You will find additional comments, pertinent to this Four Seasons Bora Bora review, on our best Polynesian dinner show in Bora Bora page.

Romantic and family friendly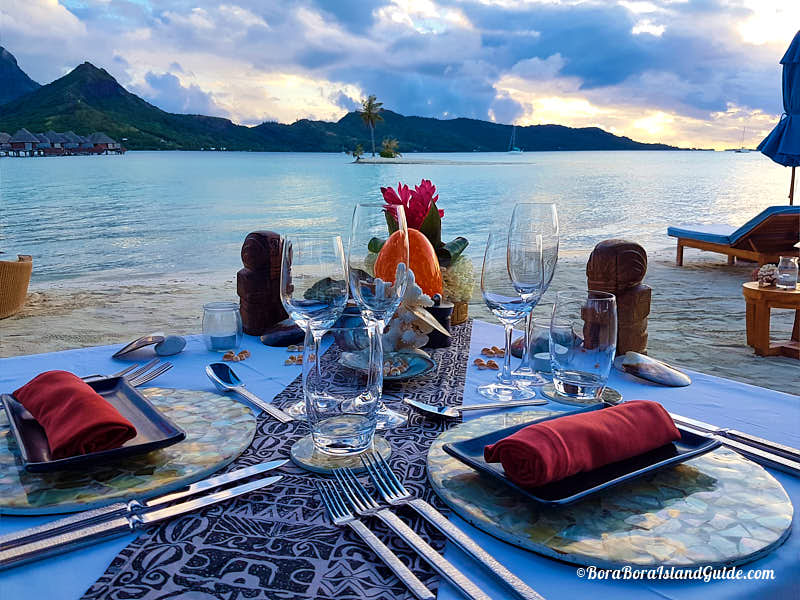 It's a paradox but; not only is Four Seasons the most sophisticated resort in Bora Bora, it's also the most child friendly resort.  If you're a couple seeking privacy, you'll have it; and kids fit right in here too! They even have their own special space. The free kid's club is available every day, anytime someone asks for it; and the resort has chosen excellent staff for this important job. Children look forward to attending the engaging programs it provides. Well priced, favorite children's meals are offered too. What we want parents to take from this Four Seasons Bora Bora review is that this is likely to be the most fun for all of the family resort you will find on the planet.
Getting around Bora Bora from Four Seasons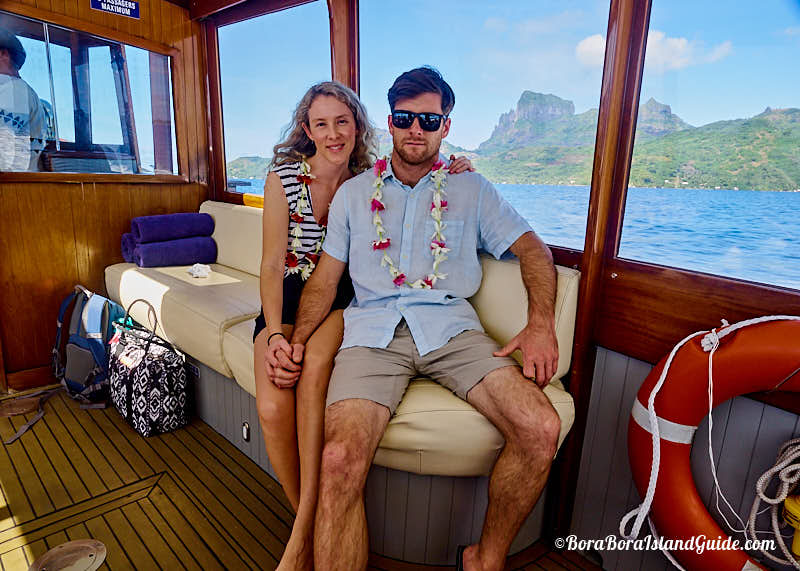 To leave the resort you must go by boat
The only negative factor to point out in this Four Seasons Bora Bora review, is that it's not easy to leave the resort. Getting around Bora Bora is nothing like anywhere else you will have been. The Four Seasons is located on a private little island in Bora Bora's lagoon and offers fewer shuttles, for higher prices per trip, than other Bora Bora resorts. It's also further away from places to go - such as Vaitape village and Matira beach - than other resorts. But if you're coming to relax and play, in seclusion and luxury, then the Four Seasons is the perfect choice.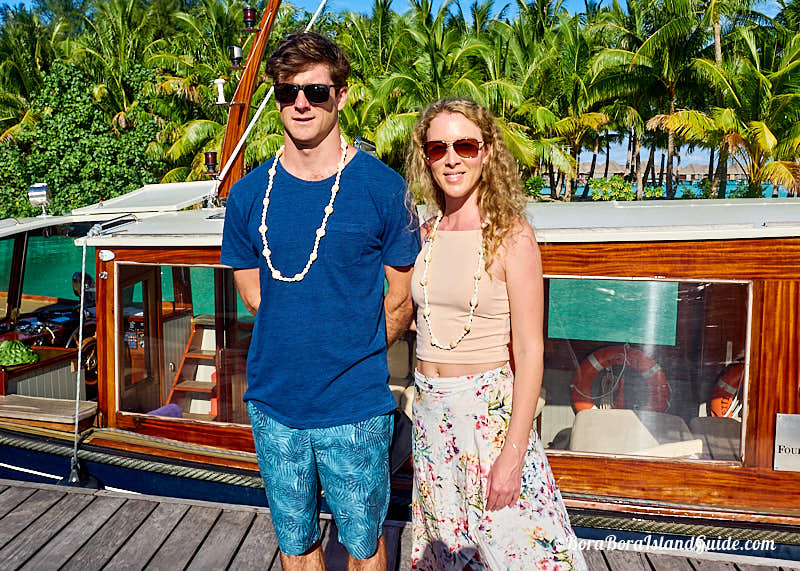 When the time came for us to leave we were farewelled with shell necklaces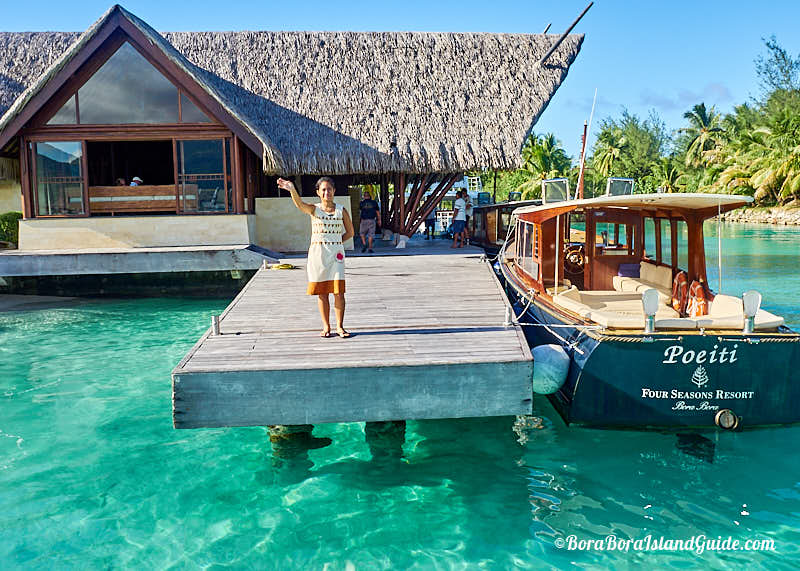 Au revoir, until next time Four Seasons!
Our Four Seasons Bora Bora Review
In summing up this Four Seasons Bora Bora review I would like to share what impressed me most. Although our stay was in one of the busiest months of the year, and the resort was at full capacity, it often felt like we were the only ones in our bungalow, walking around the grounds, or lying on the beach! It never felt busy at breakfast, or in a restaurant, or at the spa. It seemed like the resort was mostly there for us.
Still have questions that haven't been answered in this Four Seasons Bora Bora review? Check our pages on each aspect of Four Seasons Resort.
From our Bora Bora Four Seasons review, you can see why we want to return to the Bora Bora Four Seasons. On this June vacation Tom proposed to me during a romantic dinner on the beach. We're considering returning; to have a small intimate Bora Bora wedding; either in the beautiful chapel, or on the little islet off the main beach.
If this sounds like the resort for you; contact our favorite Tahiti travel specialist to ensure you get a nice package, for the best possible price, with personal concierge-like service at no extra cost.

Search the Site

Are you still looking for additional information? You can use the Google search box below to search the site.